Cormega
Jump to navigation
Jump to search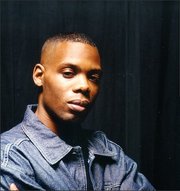 Born Corey McKay in Queensbridge, New York City, Cormega is an MC from Queens, New York, and participates in the New York rap scene. He was a prolific drug dealer before he began professionally rapping. His roots are similar to those of Brooklyn, New York rapper Jay-Z.
He was signed to the American record label Def Jam.
He has released Legal Hustle and the 2-Disc Realness/The True Meaning.
He collaborated with Nas in the early 1990's and was poised to be included in the New York supergroup of 2000 called The Firm which dropped one hit single, but was switched for another artist, Nature because he would not sign a contract with the bands manager Steve Stoute.
Nas dissed him on his 2001 song "Destroy and Rebuild" about the rap scene of Queens, and the two were at odds until recently squashing their beef:
Lyric:
You need to stay a while I feel like telling some stories.
First is this arrogant fuck his name is Corey.
Hung around my mans, Lakey and Big Trevor.
Trevor's still locked up, Lakey's getting his cheddar.
Corey changed his name to uhh...whatever
Corn-chip, buckwheat, lookalike? Its Mega.
Right. Mega was his name, sorry bout that,
But its so hard to put a cowards name in my rap,
Always actin tough, a jokester, be frontin,
He got snuffed, he got shot in the thigh, he did nothin
Continued later in song:
Back to Cor - got him a deal but his rhymes was whack,
Def Jam mad that he signed the contract,
Now he got jealous and mad at my shine,
Makin silly tapes, Im always on his mind.
Nonsense, not to be obnoxious kid,
Mega for the record you can suck my dick - Bitch!
You from around the way, it's sad what this do to me,
but Queensbridge we gotta have unity.
- Nas