Regent Park
Jump to navigation
Jump to search
Having been built in the 1940's as a "transitional community", Toronto's Regent Park has the distinction of being Canada's first/oldest public housing complex. It is a residential dwellings made up entirely of social housing, covering 69 acres (280,000 m²) of the downtown area of Toronto, Canada. This neighubourhood is bounded by Gerrard Street East to the north, River Street to the east, Shuter Street to the south and Parliament Street to the west. At the beginning of the 20th Century, Regent Park had been known as "Cabbagetown", a name now associated with the neighbourhood due North. But it wasn't until 1948 that city officials envisioned a new urban design for this 69-acre lot. Inspired by the idealized "Garden City" movement, the area was to be dismantled, leaving behind only remnants of two of its original streets – Regent Street and Park Street. Thus the name "Regent Park" came into existence, a new name for a postwar modernist neighbourhood.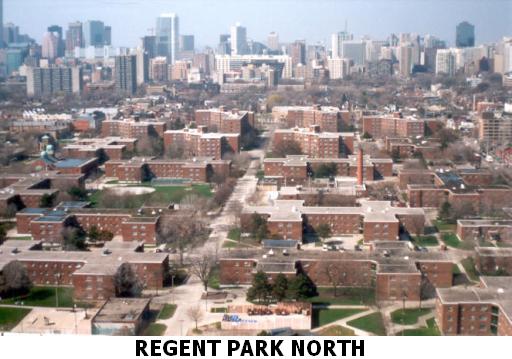 Over the years, Regent Park grew and became an extremely culturally diverse neighbourhood, with more than half of its population being immigrants. Over 50% of the population living in Regent Park are children 18 years and younger (compared to a Toronto-wide average of 30%). In its begining, Regent Park was to house people experiencing financial difficulties, for whatever reason. Most residents were on social assistance, and working residents paid rent proportional to their income. This contributed to the concentration of a socially marginalized population, and various social ills of Regent Park. In particular, this community failed to generate the awareness, interest, and commitment of its residents to invest in the development and sustainability of a higher quality of life.
The average income for Regent Park residents is approximately half the average for other Torontonians. A majority of families in Regent Park are classified as low-income, with 68% of the population living below Canada's national poverty line. For some time it has been known as a high crime prone area with brazen drug dealers and addicts, aggressive panhandlers and prostitutes. Aside from the living conditions of its aging buildings, mistrust between local police division and residence of Regent Park has long been an issue. As late as 2001 the relation between some residents and police was confrontational. Police face tremendous challenges in providing protection and security to the community. Recently, the community and police relations have greatly improved. Police have adopted a community oriented, preventive, and collaborate approach, and indicate that they are more effective in providing security to the community from roaming drug gangs; of which the most prevelent used to be the Point Blank Souljahs, an off-shoot of the original Regent Park Crew, but is now controlled by an off-shoot of that gang called the Sick Thugz.
As one of Toronto's poorest neighbourhoods, Regent Park has been stigmatized as a bastion of immeasurable poverty and despair. However, evidence has proven the contrary; there is a strong sense of community that pervades Regent Park and its diversity is reflected in the city's diversity. Certainly, the revitalization process will modernize Regent Park, however it remains to be seen whether or not it will effectively reduce the neighbourhood's poverty and stigma.
Regent Park in 2019 after revitalization (3/4 of Regent Park is gone with only the Northside building intact)
News
Police ID Victim In Regent Park Shooting
2 Men In Hospital After Double Stabbing In Regent Park
Regent Park Townhouse Riddled With Bullets In The Middle Of The Night
Regent Park Rapper Shot Dead In 'Brazen Attack'
Toronto Man Shot And Killed In Regent Park Indentified Victim Previously Wrestled With Police In Drug Bust
2 Men Hurt In Regent Park Shooting
Police Investigating After Shots Fired In Regent Park
Man Arrested In Regent Park For Suspected Homicide
Post-Mortem Concludes Stabbing As Cause Of Death In Regent Park Homicide
Man Faces 11 Weapons Charges In Year Old Regent Park Shooting
Toronto Man Arrested After Shooting In Alexandra Park & Regent Park
Internal Warfare 2: 2 Brothers From Regent Park Slain
Man Wounded In Regent Park Shooting UPDATE: 2 Charged After Man Shot In Regent Park
Firearms Seized In Regent Park Raid
Teen Slain in Regent Park Was Targeted
Man Wanted For Attempted Murder Suspected Of Ties To A Gang Located In Regent Park
Internal Warfare - Sick Thugz & Eaton Centre Shooting
Suspect Sought After Regent Park Shooting
Dead Body Discovered In Building Of Regent Park Hallway UPDATE: 2 Arrested In Death At Regent Park Complex
Salvation Army Mentors Kids In Regent Park After 18 Year Old Killed By Police
19 Year Old Escapes Death With Car Riddled In Bullets After Leaving Home In Regent Park UPDATE: Victim Had Survived A Previous Attack
18 Year Old Shot Dead in Regent Park
Regent Park Murder Victim's Brother Sought In Pimp's Murder
Regent Park Shooting Leaves 1 Man Dead UPDATE: Victim ID'd In Regent Park Homicide
2 Teens Shot Dead in Regent Park
27 Year Old Gun Victim Was A Member Of A Gang Based In Regent Park
Early Morning Raids Leads to Drug, Gun Bust
Windsor Shooting Suspect Arrested In Regent Park
Boy, 16, Found With 3 Handguns and Assault Rifle in Regent Park Raid
Teens Arrested After Raid Following Tourist Being Robbed in Regent Park
16 Year Old Shot In His Regent Park Home
Regent Park Shooting Victim Shares Same Fate As Older Brother
Man Killed In Regent Park, Four Arrested UPDATE: Victim ID'd In Regent Park Shooting
Cyclist Shot Riding Near Regent Park
Man In Custody For Opening Fire On Paramedics And Police Officers In Regent Park
Turf War In Regent Park: Point Blank Soldiers Vs. Silent Soldiers
Teen Became 9th Person To Be Killed In 51 Division This Year
23 Year Old Shot Near River And Gerrard Streets
Police ID Regent Park shooting victim, first homicide investigation of 2020 now underway
1 dead, 1 injured in Regent Park double shooting
15 Year Old Boy Dead In Regent Park Shooting
Man dead after shooting outside east-end Toronto bar
Gangs
Point Blank Souljahs (Defunct)
Regent Park Crew (Defunct)
Young Blood Generation (Defunct)
North Side Young Gunz (Defunct)
Videos
Exploring the link between gun violence and gang activity | Guns in Canada
Regent Park: Canada's First And Largest Housing Project
Growing Up In Regent: Youth and Relocation in Toronto's Regent Park
Point Blank - Born and Raised in the Ghetto (Final Cut)
Toronto gun violence: how communities are fighting back | CBC Docs POV
Regent Park Focus on CBC (1997)
Turk x YH - Risk It All (Official Video)
Obituary
R.I.P FAT JOE
R.I.P A.I
R.I.P J9
R.I.P SMOKE DAWG
R.I.P RUCK
R.I.P C-SICK
R.I.P MURDA MARZ
R.I.P NYCKZ (NIXON NIRMALENDRAN)
R.I.P SCRILLA (NISAN NIRMALENDRAN)
R.I.P ALWY AL-NADHIR
R.I.P ANO
R.I.P NSK
R.I.P TB
R.I.P MEENA KHALIL HABIB
R.I.P JULIAN WEEKES
R.I.P THUY QUACH
R.I.P LIL T
R.I.P MACKAI BISHOP
R.I.P AHMED YAKOT