Difference between revisions of "Ontario"
Jump to navigation
Jump to search
Line 448:
Line 448:
 
 
 

==Pictures==

 

==Pictures==

−

*[http://pp.blackplanet.com/HousingProjects Toronto, Ontario Housing Projects]

+

*[http://blackplanet.com/HousingProjects Toronto, Ontario Housing Projects]

 
 
 

==External links==

 

==External links==
---
Revision as of 19:29, 4 December 2006
noun
Ontario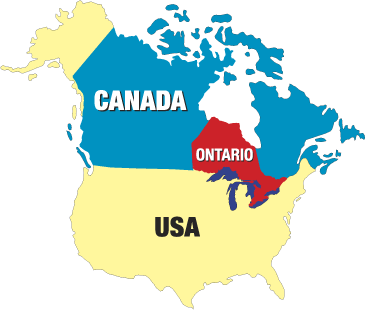 A province of east-central Canada. Toronto, aka T.O., aka T-Dot, aka The Dot is the capital and the largest city. Other major cities in Ontario include Hamilton, London, Niagara Falls, Windsor, and the nation's capital Ottawa, aka O.T. Ontario is most populated province with a population of 12,300,000.
Major sports teams
Major sports teams in Ontario include the Hamilton Tiger-Cats (CFL), the Ottawa Renegades (CFL), the Ottawa Senators (NHL), the Toronto Argonauts (CFL), the Toronto Blue Jays (MLB), the Toronto Maple Leafs (NHL), the Toronto Raptors (NBA) and the Toronto Rock (NLL).
Rappers
Rappers (or rap groups) from Ontario include 1st Word, 4th Pyramid, 5 Deuce, 5 Deutsche, 7Bills Ent., 20 B-Lo, 40 B-Lo, 45Chromes, 52 Pick Up Ent., Abdominal, Absent Minded, Ace, Adversaree, Afficial Nast, African Kidd, Alias Donmillion, Al' Sham, Angel Duss, Anonymous Twist, Arabesque, Arcane, Arcee, Aristo, Arsenal, A-Rush, Asia, Assasini, A. Team, B.90, Baby Blue Sound Crew, Babylon Point, Basement Theory, Belladonna, Belly, Big Mo, Big Zeek, Bishop Brigante, B Kool, Black-I, Blak Jack, Blits, Blue Scorpion, Bomb Shelta Association, Boom, BoroBasicz, Branded Black, Brass Tacks, Brassmunk, Bush Life, C. Leon, Califate, Cale Sampson, Casey Jonez, Charisma, Cause, Chief Rock, Choclair, Chrome, Chuggo, Citizen Kane, Clas, Climax, Code Red, Collizhun, Coloss Da 8th Wonder, Colossus, Concrete Mob, Conflict, Conshus Phenom, Contraversy, Corporation, Crazy Craze, Crooks Of Da Round Table, Cryptonite, D, Daetona, Da Vinci, D.O., Dolo, D.U.N Deal, D-Sisive, Dak Squad, Dan-e-o, DEVILOUS.NET, Darryl Zero, DeadEyez, Deep Pockets, Derrick Wise, Deuce Deuce, Deviance, Diablo, Diamond X, Die-Rek, Die-Verse, Diemen X, Divine LyricistZ Krew, Divo, Dizzy Dot, DJ Complex, DJ Keen aka SubVerse, DJ Signal, DL Incognito, DnD, Do Dirty, Dope Poet Society, Down 2 Erf, Dragon Slayer, Dre Diamond, Dream Warriors, Dub-Ill, Efem, Eighth Wonder, epideMIC, Equinox 911, Erldotcom, Essex Court, Eternia, E.T.P., Exodus, Explisit, Eye-Eye, Fat Ski, Fatal Phonetics, Field Delegates, Figures Of Speech, Fin-S, Fortunato, Frankenstein, Friday, Furee, Garfield aka Moses Thievery, G.C.C., G.C.P, Gemini Doc, General 2-Smooth, Genetix, Ghetto Concept, Ghost Crew, G-Knight, Godd Boddies, Godzilla, Gold Spade, Golding, GQ, Graphidi Logik, Grassroots, G-Ride, Grimace Love, Grips, Gullitine, Hood Gang, Huna Koem, Hustlemen, Hypothesis, Iceburg, Ill Phenom, Ill Seer, Illegal Justice, Imperial, Infinite, Insyte, I.N.T, Intoximental, Intrepid Stylez, Introspect, Ironside, Irs, I.T.P., Jabbee, Jackal, Jair Dynast, Jaki-Li, J.B, Jelleestone, Jga-Boo Da Ignant, J-Pockets, J-Staxxx, Juganot, Juice aka Rochester, Julez, Kalifa, Kamau, Kardinal Offishall, Kastapolix, K.C. Thomas, Keinaan, Keizo, Ken Masters, Kendo, Kidd, Kijaro, King Solomon, Kish, K-Note, K-OS, kRiTiKaL, Kwajo, Latte D. Kyd, Legendary Legend, Lethal, Live Motivatorz, Lokz, Lo Kreepaz, Locksmith, Logical Ethix, Loose Cannon, Louwop, Lucid, L. Vision, Lyrical Bliss, M-3, MadFace, Mad Fam, Madlocks, M.A.D. Statement, M.A.G.I.C., MC Bones, MC Face, Maestro, Massari, Max Baker, M-FaM, Malik Monarch, Malik Shahid, Manafest, Marvel, Marz Apocalypse, Masia One, Masters, Mathematik, Mayhem Mauriorti, Merks, Michie Mee, Mikey B, Mikey G, Mindbender, Mission 5, Mission Holliday, Mista Bourne, MistaCronks, Mizza, Monolith, Motion, Mr. Bigstuff, Mr. Feury, Mr. Flowas, Mr. Muggz, Mr. Roam, MZA, Nas-T Howie, Neural Chaos, Nefarius, NEM-S-SIS, Ngajuana, Niambi, NightHood, Nish Rawks, Non-Equation, Oddities, Organized Rhyme, Overproof, Paper Boy, Paranormals, Payback, Peep Sho, Phatt Al, Phili Blunt, Pin the Chameleon, Poetikal, Point Blank, Points of Pressha, Poison Da Illgotten Skill, Poison Pen, Poizunus Mynd, Precint, Precise, Prince Ali, PRiNE, Jason, Promise, Pryhme Suspek, Prynce, Q-Bot, Red Rum, Redlife, Remmy Rezz, Rex Ent., Rhyme Persuasion, Rhythmicru, Rich Kidd, Rich London, Rob Blye, Rocstone, Rolo, Romo, Ron D, Ro-Ro Dolla, Royalty Squad, Rubix, Samuel Bonz, Saukrates, S.A.R.S, Savo, Scam, Scandal, Scandalous, Scarbrothaz, Schism, Scrappy, Scrilla, SeeZa, SessSquad, Shad, Sha Hustle, Shakari Nite, Shang-Hi, Sharky the Great, Shaymlyss, Shotgun, Show, Shug, Sickkidz Studio, Sic Sense, Silence, Sinsear, Six Pac, Sin, Skard1, Skelitor, Sketch D.V.S, skittles, Skitz, Slakah The Beat Child, Smoke Da Hidden MC, S-N-S (Steel Squadron), Solitaire, Soul Dwellas, Spanky, SpotLight, S-Rocc, ST8OFMIND, Steady Mayhem, Steel Squadron, STK, Streets Elite, Street Kids, Stretch Diesel, Stump, Sublime Rhyme, Suni Clay, Suspect, Swave Sevah, Swift, Switch, Symbolik, Syndrome, Syntifik, Taboo, Talk Sense, Tara Chase, T-Bone, Tek, Tek Man, Tekniq, Teknish, ThaProblaM, Tha Smuggalz, The Anonymous, The Armada, The Civilizer, The Corps, The Prezident, Theory, The Rhyme Giant, The WhytHouse, Thighmastas, Thrust, Thug Pretty, T-MindZ, T.O.A., Toba Chung, Tony Blair, T.R.A., Trauma Unit, Trench, Trigga, Triznain, Trouble, Tru-Paz, Trust, UBAD, Unit 7, Unit-e, Unknown Misery, Vandal, Vangel & Dorc, Venom, Verbal Sweetness, Vocastic, Voltage Diamond, White Fang, Whosan, Wio-K, Wise Boyz Noize, Y-Look, Youngin, Young Tony, Zeek Da Chronic Freek, Zero Tolerance etc. Flex
Videos
This is a promo made buy http://www.slanggmedia.com to promote an upcoming Hiphop Doc. titled payperz.net featuring Tremain downey Aka DEVILOUS. *[1]
This is a CBC news documentary about a Jane & Finch rap duo called Tha Smugglaz. It was aired across Canada on CBC's The National news program. The documentary features Speng (aka Benny Blacc) and Stick-Up in an in-depth feature story about gangster rap and living in the Jane & Finch ghetto of Toronto, Ontario.
MONEY OR LOVE? Slanggmedia.com Takes it to the Streetz of CAP CITY.... Ottawa Ontario *[http://www.youtube.com/v/Dd1Tixas1lg">
Take a view from a Dundas streetcar window as it passes by Regent Park, Canada's first and largest housing project located in Toronto, Ontario.
Rapper Blits spits a freestyle from the Parma Court projects in Toronto, Ontario.
This video is BLAZIN'!!! 5 rappers from different hoods in Toronto, Ontario get together and create a masterpiece.
Rappers from Flemingdon Park/Parma Court in Toronto, Ontario link up and spit some real grimey shit.
Pictures
External links