The Bravehearts
Jump to navigation
Jump to search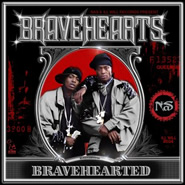 The Bravehearts are an East Coast hip hop group from the Queensbridge Projects in New York City. They all grew up on 40th and Vernon block along with Cormega. The group members included Jungle (younger brother of hip hop star Nas), Wiz, Nashawn, and Horse. Horse left the group in 2002, and Jungle, Wiz, and Nashawn carried.
Signed to Columbia Records as part of Nas' Ill Will Records imprint, The Bravehearts first emerged in 1998, with a track on the soundtrack to the Hype Williams film Belly. From there, the Nas protégés moved on to the QB's Finest compilation album, and saw their track "Oochie Wally" go gold. Jungle and Wiz then began working on their full-length debut for Columbia. In the meantime, they appeared on 50 Cent's mixtape-style Guess Who's Back?, supporting 50 and Nas on the track "Who U Rep With."
The full-length LP Bravehearted was released in December 2003. 'The album featured guest appearances from Nas, Nashawn, Lil Jon, Jully Black and Mya, and the group scored a hit single with the Lil Jon-produced "Quick to Back Down. A second LP is currently in the works from the duo, and Nashawn is working on his first LP.